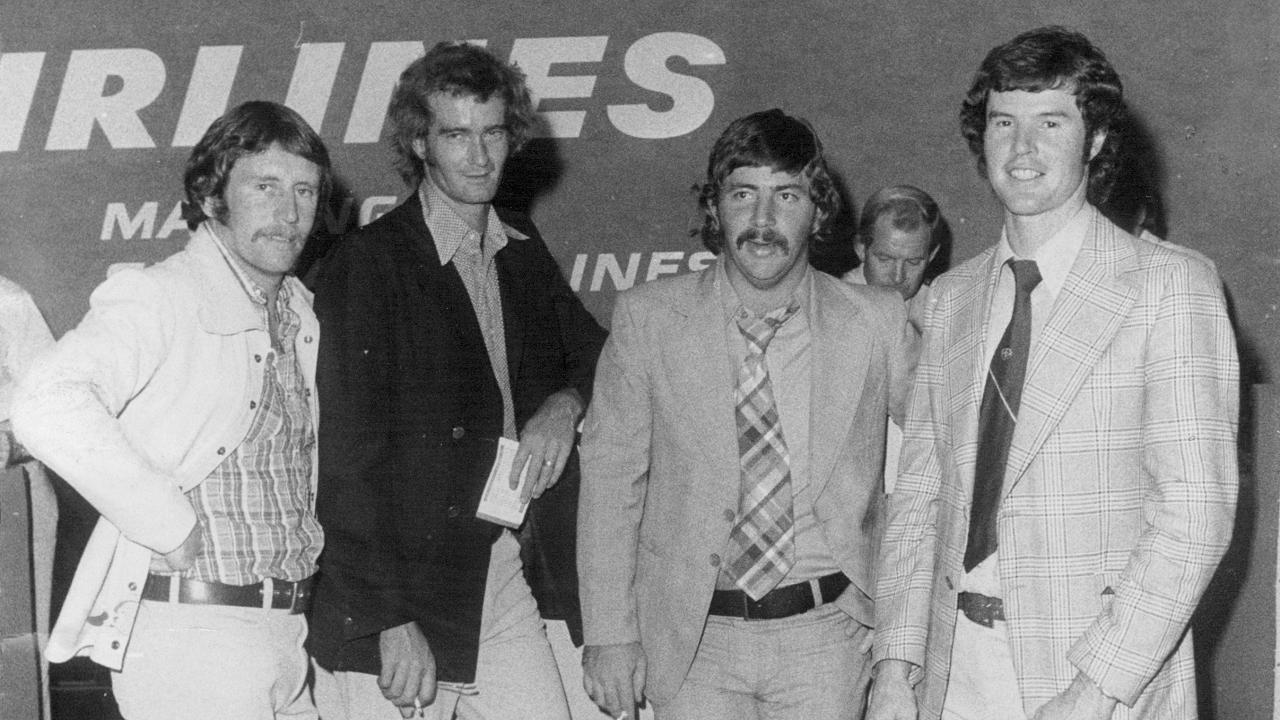 After a long battle with cancer, Ashley 'Rowdy' Mallett died aged 76; that brought to an end the successful cricket and writing career of a beloved team-mate.
It wouldn't have surprised me if I'd received this horrible news following Rowdy suffering a bad fall. He might just have been the clumsiest man ever to take a hundred Test wickets and a slew of blinding catches in the gully. We were never quite sure about the extent of Rowdy's clumsiness as many of his stumbles seemed designed to provide a laugh in the dressing room.
His clumsiness knew no bounds but probably reached it's zenith in the second of three ODI's at Lord's in 1972. Mallett had bowled brilliantly in the first session as he completed the last over before lunch. In addition to taking the valuable wicket of opener Dennis Amiss he'd been especially miserly.
The final delivery was played sedately into the covers and knowing it was lunch – along with everyone else bar Mallett – Englishman Jack Hampshire tucked the bat under his arm and began to walk towards the pavilion. Sensing a run out opportunity Rowdy moved quickly to the off-side to retrieve the ball but instead trod on it and twisted his ankle. Having been convinced by his team-mates that Hampshire was only leaving his crease for the lunch break, he then picked up the ball and obligingly returned it to the umpire.
There was only one problem; the stumps were between Rowdy and the umpire and he flattened all three – leg, middle and off. This episode brought the house down as did his performance in that match; 2/24 off eleven overs and a blinding catch at mid-on to get rid of the always dangerous Alan Knott.
How good was Ashley Mallett as an off-spinner? He reached 100 wickets in exactly the same number of Tests [23] as Shane Warne. I regard Erapalli Prasanna as the best off-spinner I played against and in India in 1969 Rowdy matched him by taking 28 wickets to the Indian's 26 in the five-Test series.
In 1977 when World Series Cricket [WSC] was being planned, Kerry Packer told me: "I'm not giving that adjectival straight-breaker a contract," when I asked for Mallett to be included in the playing list. A few weeks later we were having dinner in Leeds with a few of the English players who had signed for WSC. Packer had reluctantly signed Mallett and wanted an assurance his investment was viable. He asked Alan Knott his opinion of Mallett's bowling and when the keeper gave a glowing report he accused me of prompting the Englishman.
Mallett was the best Australian off-spinner I've seen in addition to being a brilliant gully fielder. He could also be a useful lower-order batsman and once smote Jeff Thomson for four with a perfectly executed cover-drive. He didn't move as he admired the shot and when I asked him afterwards why he hadn't run, he replied: "I've always wanted to just stand at the crease after hitting a boundary."
He was also a courageous cricketer. As an off-spinner he was often on the receiving end of a bouncer barrage and one such delivery from Dennis Lillee broke his hand during a Sheffield Shield encounter at the WACA ground.
As we chased a target of 291 in the second innings, I told Mallett he would bat at 11 and only then if we needed just a handful of runs. When the eighth wicket fell with 17 still needed he raced out the door ahead of Wayne Prior to face the bowling of Lillee.
Along with 'keeper Mike Hendricks, Mallett completed the victory but not before he'd toe-ended a cut shot from Lillee which must have jarred his injured hand terribly. By the time he reached the dressing room his hand was shaking uncontrollably. I thanked Rowdy for what he'd done for the team and added: "But you're a bloody idiot going in to bat like that."
He simply replied: "I couldn't let Wayne [a confirmed number eleven] go in to face Lillee."
Mallett had best Test figures of 8/59 in bowling Australia to victory over Pakistan at the Adelaide Oval in 1972-73. His last Test wicket was David Gower at the 1980 Centenary Test at Lord's.
After retirement his journalistic career flourished and he published numerous books and articles with a preference for writing on spin bowling. His book on the legendary leg-spinner Clarrie Grimmett who gave Ashley some worthwhile advice when he was a budding off-spinner, was a labour of love.
He'd recently just completed a well-written and researched book on Australian champion batsman Neil Harvey, the last of the 1948 Invincibles.
In addition to his writing, he regularly conducted sessions on spin bowling, many of them with his mate and fellow tweaker Terry Jenner. In recent years he'd re-married and was as happy as I'd seen him in a long time with his soul-mate Patsy.
Sadly this loving relationship was cut short but Rowdy will be remembered as a fine bowler, a valued team-mate and a soft-spoken but witty human being.