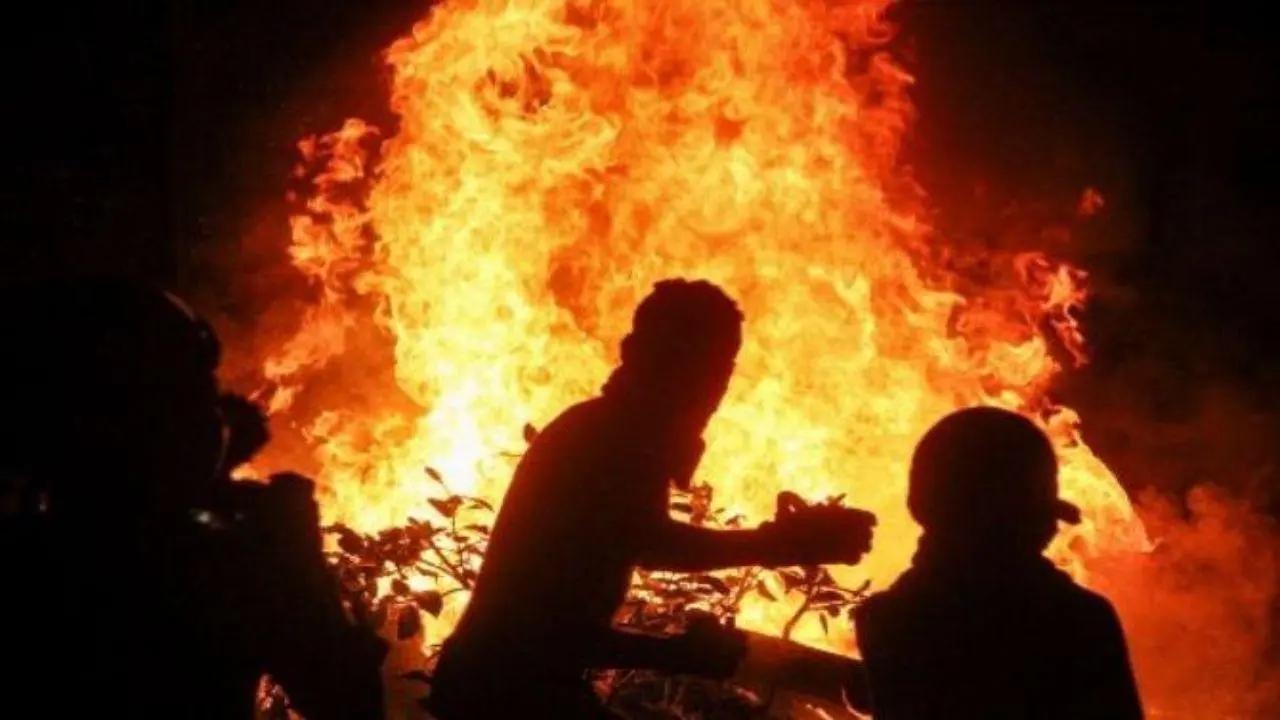 The Indian Consulate in Dubai identified four Indians among the victims of a tragic fire in a residential building in Dubai on Saturday, Gulf News reported.
Sixteen people were killed and nine others injured in the blaze which Dubai Civil Defence attributed to a lack of compliance with building security and safety requirements.
The deceased are a couple from Kerala and two men who worked at the building that caught fire in the Deira district on Saturday afternoon, an official at the Indian Consulate told Gulf News on Sunday morning, Gulf News reported.
The Indian victims identified so far are Rijesh Kalangadan, 38, his wife Jeshi Kandamangalath, 32, Gudu Saliyakoondu, 49 and Imamkasim Abdul Khader, 43.
"We have received their passport copies through social worker Naseer Vatanappally. We want to express our heartfelt condolences to the families and thank the social workers and others who have reached out with support. We are coordinating with the local authorities for the repatriation procedures," said Bijender Singh, consul, Consular and Labour, at the consulate, Gulf News reported. Kalangadan worked as a business development manager with a travel and tourism company while Kandamangalath was a school teacher, it was disclosed.
Meanwhile, Saliyakoondu`s elder brother Saliga Sahib Gudu Basha told Gulf News he was outside the building when his brother was inside, insisting on helping out with the rescue of others when he died. He claimed it was the same case with Abdul Khader who also hailed from his hometown, Gulf News reported.
Saliyakoondu and Abdul Khader worked as watchman-cum-cleaner and painter-cum-carpenter respectively. "I was helpless…I could only watch from outside," Basha said. Basha works as a security guard in a nearby building. On hearing about the blaze, he said he rushed to the site around 12.30 pm.
Also Read: Japanese PM Fumio Kishida unscathed after smoke bomb hurled at public event
"A Pakistani man living on the lower floor of the building told me he had told my brother and his colleague to come out. But they refused to leave as they wanted to be of help," he said. Basha said he watched his brother being rushed to the hospital around 3 pm. "I also went to the hospital and was told he was declared dead on arrival," he said.
According to Basha, Saliyakoondu has worked in Dubai for 26 years and has been with the building for five years. He had three children. Abdul Kahder also hailed from their native place in the south Indian state of Tamil Nadu and was working in the building for three years, he said, adding that he was also married with two children, Gulf News reported.
"People call them Rafiq and Imam. Their families are back home. Imam has got a three-month-old child. He had not seen the child. He wanted to go home after Ramadan," claimed the devastated Basha who is coordinating with the authorities and social workers to repatriate the deceased.
According to Vatanappaly, all victims were identified with the help of relatives, friends and colleagues by Sunday noon.
"Apart from the four Indians, the other victims have been identified as six Sudanese nationals, three Pakistani cousins, and one each from Jordan, Egypt and Cameroon," he told Gulf News.Official confirmation of this is awaited.
"Seeing people identifying their loved ones in this tragedy was heartbreaking. I have been flooded with calls as I was the focal point for coordination along with Nisar Pattambi (another Indian social worker). I left from the police mortuary around 5 am but had to come back in a few hours as we had only identified all the victims at night," he added.
This story has been sourced from a third party syndicated feed, agencies. Mid-day accepts no responsibility or liability for its dependability, trustworthiness, reliability and data of the text. Mid-day management/mid-day.com reserves the sole right to alter, delete or remove (without notice) the content in its absolute discretion for any reason whatsoever