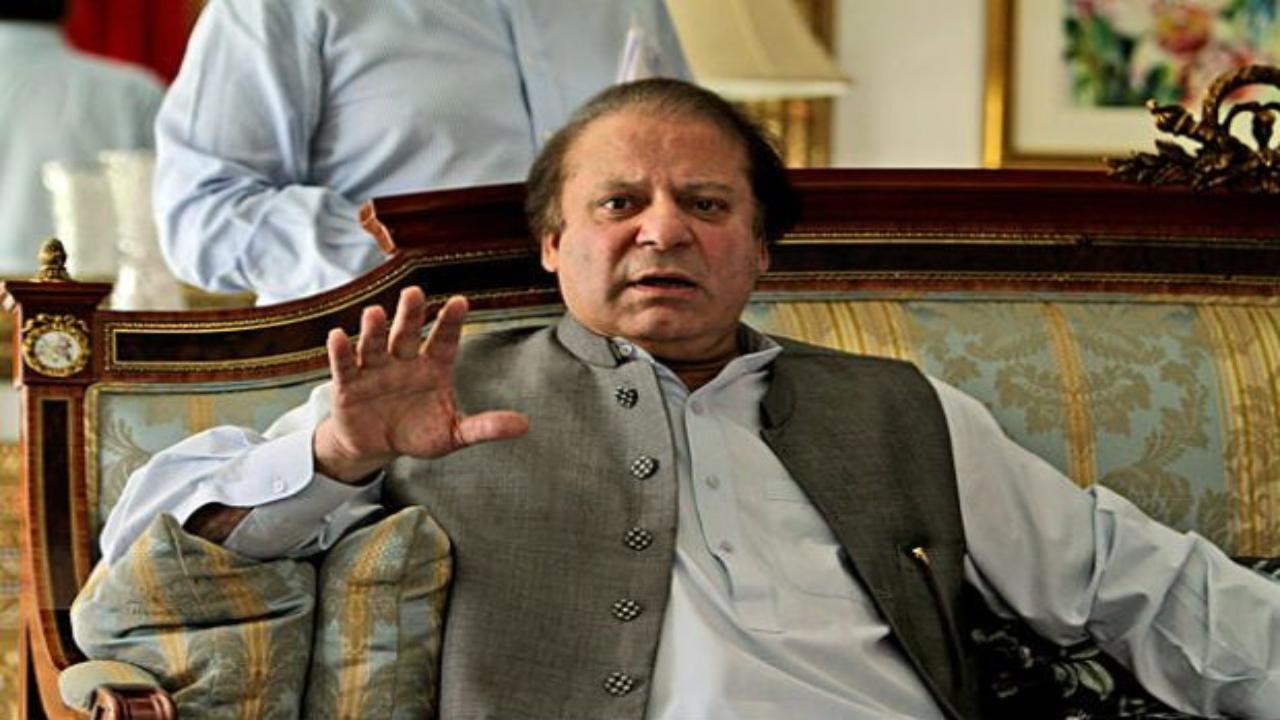 Pakistan Muslim League-Nawaz (PML-N) supremo Nawaz Sharif has blamed the ex-Army chief and ex-ISI head for the current turmoil in the country by rigging the 2018 general elections and installing Imran Khan-led government.
The former prime minister held ex-Chief of Army Staff Gen Qamar Javed Bajwa and ex-Director General of Inter-Services Intelligence Lt Gen Faiz Hamid responsible for spinning Pakistan around for their personal wishes and whims, the Geo News reported.
Also read: Terrorism alive in J-K, can be ended only by holding dialogue with Pak: Abdullah
Talking to the media on Thursday in London after meeting with a delegation of senior PML-N leaders from Pakistan, Sharif recalled his 2016 Gujranwala speech at the PML-N public gathering where he directly accused the ex-military men of rigging elections to make way for installing the Pakistan Tehreek-e-Insaf (PTI) government in 2018.
At the time, Sharif blamed the military top brass for installing PTI`s Khan as the prime minister in violation of the Constitution, removing his government, muzzling the media, pressurising the judiciary, and victimising opposition politicians, the report said.
When asked if he held Gen Bajwa and Gen Hamid responsible for the state of the country, he said: "The reality is before everyone. Now no name or face is hidden. Pakistan was used for personal gain. It was a cruel joke played on the nation."
"Lt Gen (retd) Faiz and Gen (retd) Bajwa were responsible for making it all about their personalities, wishes, and desires," the 73-year-old Sharif said.
He said that the people of Pakistan are well aware of the "faces and characters of the two retired generals who are believed to be behind implementing the Tabdeeli project originally envisioned by former intelligence chiefs General (retd) Shuja Pasha, General (retd) Zaheer-ul-Islam and their colleagues."
"It is my responsibility to tell the nation about the wrongs committed against the people, and it is my responsibility to make things right," Sharif was quoted as saying by the Dawn newspaper.
Talking about the meeting with his daughter and PML-N senior Vice President Maryam Nawaz and party leaders, Sharif said that he discussed Pakistan`s current situation with them.
"Inshallah, all will be well. Pakistan will come out of the difficulties and we will make sure that happens. Our track record of progress is a witness and it`s not possible that we will not make that happen," he said.
The PML-N meeting comes at a time of heightened political activity in Pakistan as both Punjab and Khyber Pakhtunkhwa Assemblies dissolved.
Calling the PTI chief Imran Khan a "mad man", Nawaz said, Compare his [performance during the] four years of [PTI] government with four years of our government and you will see how happy and prosperous people were in two tenures and how he [Khan] destroyed Pakistan, Nawaz was quoted as saying.
He further added that the Pakistan Democratic Movement (PDM) took over the government after winning the vote of no-confidence to save Pakistan from this madman because he had created a catastrophic situation for Pakistan.
This story has been sourced from a third party syndicated feed, agencies. Mid-day accepts no responsibility or liability for its dependability, trustworthiness, reliability and data of the text. Mid-day management/mid-day.com reserves the sole right to alter, delete or remove (without notice) the content in its absolute discretion for any reason whatsoever.