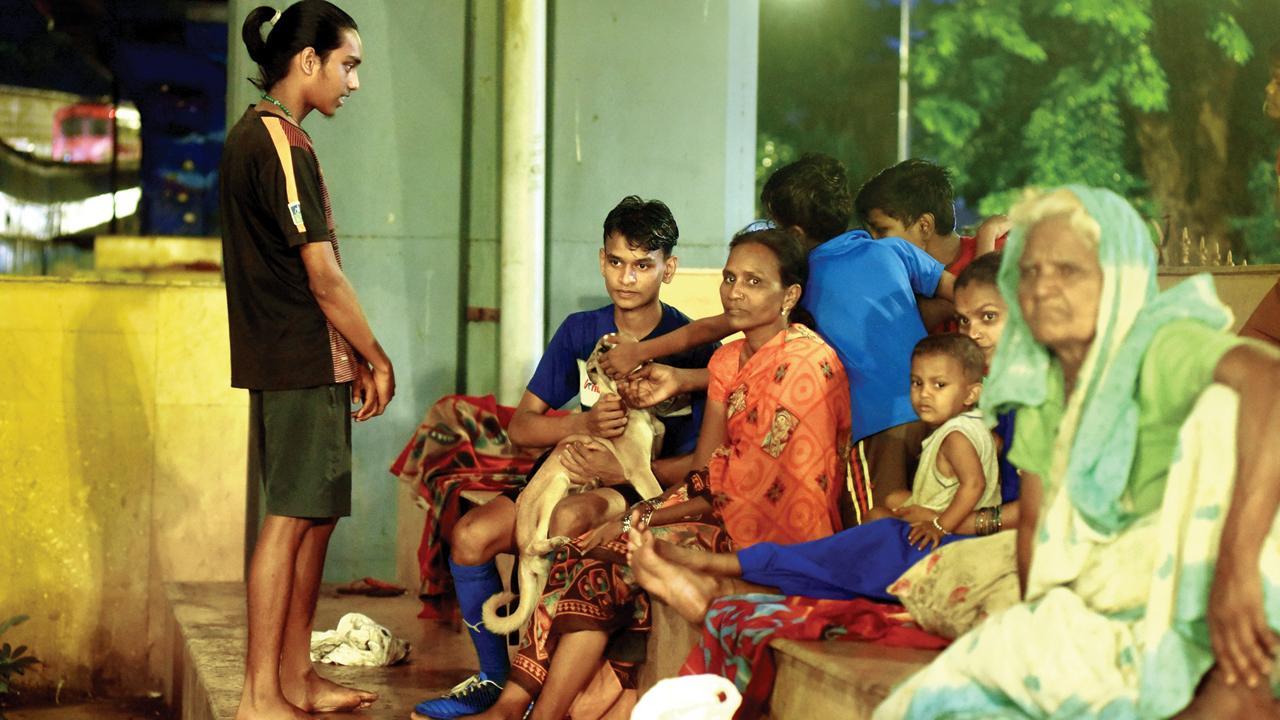 Pawan Samantrai is over the moon ever since he got the news of his selection into the Mumbai Schools Sports Association (MSSA) team for the Hockey India Junior Men Academy National Championship to be held in Bhopal from October 18.
The homeless teenager, who lives with his family under the Kings Circle Bridge in Matunga, believes hockey has helped him become a better human being. "Mere life mein hockey nahi hota toh main bhi baaki ladkon ki tarah tapori ban jaata [had it not been for hockey, I too would have become a ruffian like most of the boys around me]. I'm thankful to my first coaches Nanu sir [Shrungar Raul] and Parvez [Shaikh] sir at Anstrengung United, Mumbai [an NGO working with slum kids]," Pawan, 18, told mid-day on Tuesday.
Pawan's mother, Mamta, is employed as a sweeper and works on a contractual basis. He too picks up the broom occasionally when he's not wielding his hockey stick. His meagre income of Rs 5,000 per month goes a long way in supporting his family, comprising brothers Ravi, Babu and sister Shravani, who all live on the Matunga footpath. His other two siblings, elder brother Gaurav and sister Mona are married and live in chawls at Antop Hill and Govandi respectively. His youngest sister Shraddha stays with his elder brother Gaurav. Money is obviously an issue for Pawan and his family.
"The NGO people take care of my educational fees and a few expenses. Initially, I was studying at a BMC school in Matunga, but later my coaches enrolled me in a private school, Chhatrapati Shivaji Vidyalaya in Dharavi. They have played an important role in my life by ensuring I do not fall into wrong company. My mother has raised all of us single-handedly after my father [Babulal] died when I was very young. So, to help her, I started working three years ago. The sweeper's job helps me earn Rs 5000 per month and I give it all to my mother," added Pawan, who plays as a defender in Team MSSA.
Despite his hardships, Pawan ensures he does not miss either his classes or hockey practice sessions. He passed his Class XII exams through Model English Night High School & Jr College in Matunga. "I realise that education is very important and that's why I completed my HSC from a night school as I could not study during the day," said Pawan, who nearly missed the MSSA hockey selections last week after misplacing his hockey stick just before the trials.
"I did not have a hockey stick while going for selections. I borrowed one from one of my friends, Ananya," said Pawan.
Teen hockey player Pawan Samantrai during a training session at Don Bosco hockey ground in Matunga on Tuesday. PIC/ATUL KAMBLE
In the last few years, the Don Bosco Oratory program in Matunga has helped many young kids like Pawan get into sport. The slum kids are provided the opportunity to play at Don Bosco High School's synthetic turf in Matunga, where coach Anthony Pinto (Tony) has ensured that Pawan has been getting the best training over the years. "I started playing on the turf around two years ago. Tony sir has helped me evolve as a player in the last year or so. I want to do well in hockey. It is my dream to gift my mother a house and help my family live decently. Though I am not ashamed of where I live currently, I feel bad to see my family struggling in these circumstances, especially my mother and sister," added Pawan.
The youngster's first coach Raul is proud that his ward has earned a spot in the MSSA team through sheer hard work. "Pawan is among the first batch of street kids we started working with 10 years ago outside Khalsa College in Matunga. Today, he has made it to the [MSSA] team on his own merit. He has proved to everyone that it doesn't matter where you come from. It's only hard work and talent that count. Pawan was also a key member for our organisation when the COVID-19 pandemic was at its peak earlier this year. He helped us reach many needy people in his community," said Raul.
Having graduated from the schools hockey system, Pawan occasionally honed his club-level skills at the India Rush Academy in Bandra under Conroy Remedious, a Mumbai Customs player. But then
COVID-19 struck and everything shut. However, for the last two months he has returned to regular training at the academy. Remedious, who has coached a lot of players at the Bombay Republicans Sports Club, admits that had it not been for hockey, Pawan would have strayed. "Coaches Raul and Sheikh have done a great job in keeping Pawan and many other such boys engaged in sport else, who knows what they would have become. Street life can be very tough," said Remdious, who has gifted Pawan a new stick and also sourced a new pair of hockey shoes for him through former India defender Dhananjay Mahadik.
Pawan's hard work and discipline is an example for all the kids at India Rush. "Pawan walks every day from Bandra Station to our ground at St Andrew's School for practice at 4:45 pm as he cannot afford the bus or auto fare. I give his example to all my players, particularly the latecomers, most of whom travel either by car or bike or bus. On the field too, Pawan is very focused. It's just that he likes to dribble a lot and that's something I've been trying to change, so I have put him in defence where he can hone his tackling and ball distribution skills. Pawan is still learning, but I have no doubt that if he continues in this manner for a few more years, he will definitely excel in the sport professionally," concluded Remedious.

MSSA team for Junior Nationals:
Duane D`Souza, Sean Gonsalves, Aryan Pagare, Sunil Natekar, Rhythm Mamnia, Prathamesh Dhuri, Faizuddin Siddique, Yashas More, Moses Alexander, Jay Dhanawade, Pawan Samantrai, Gavin Pereira,Om Rathod, Aditya Mhatre, Laxmikant Kawale, Pankaj Yadav, Akash Rai, Clyde Rodricks
Head Coach: Stanley Thomas
Manager: Joe Monteiro