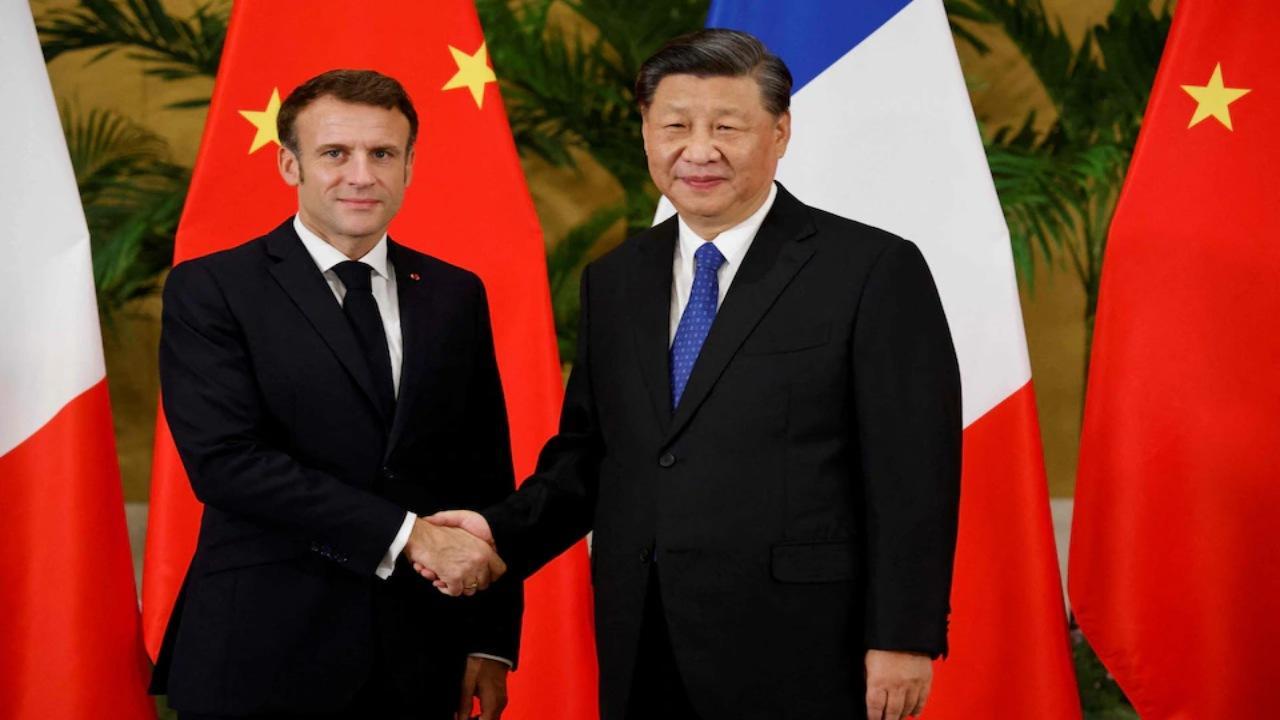 French President Emmanuel Macron said Wednesday he wants to "engage China toward a shared responsibility for peace" in Ukraine when he meets Chinese leader Xi Jinping this week.
French officials said earlier Macron planned to urge Xi in talks Thursday to use Beijing`s influence with Russian President Vladimir Putin but didn`t expect a big shift in the Chinese position.
Macron is accompanied by European Commission President Ursula von der Leyen in a show of European unity in dealings with Beijing.
Xi and Putin declared their governments had a "no limits friendship" before Moscow`s February 2022 attack on Ukraine. Beijing has refused to criticise the Kremlin but has tried to appear neutral and has called for a cease-fire and peace talks.
In a speech to French residents of China, Macron said he would "try to build, and somehow engage China toward a shared responsibility for peace and stability on international issues" including Ukraine, Iran and North Korea.
Macron expressed hope China will "participate in initiatives that are useful to the Ukrainian people."
"Dialogue with China is indispensable," Macron said during the event at the French Embassy.
Xi`s government sees Russia as a source of energy and as a partner in opposing what both say is US domination of global affairs.
Also read: Russia-Ukraine war: Will there be a spring counteroffensive in Europe`s biggest armed conflict since World War II?
China is the biggest buyer of Russian oil and gas, which helps to prop up the Kremlin`s revenue in the face of Western sanctions. That increases Chinese influence, but Xi appears reluctant to jeopardise that partnership by pressuring Putin.
Macron noted Putin`s announcement that Moscow plans to deploy tactical nuclear weapons in Belarus, which China opposes.
"Territorial integrity, the sovereignty of nations is part" of the Charter of the United Nations, which China affirmed, Macron said.
Defending those principles "means moving forward together and trying to find a path for peace," Macron said. He noted China proposed a peace plan in February and that while France doesn`t fully agree with it, the plan "shows a will to commit toward the resolution of the conflict."
Last week, von der Leyen warned the European Union must be prepared to develop measures to protect trade and investment that China might exploit for its own security and military purposes.
Thierry Breton, EU commissioner for internal market, said Monday on French news broadcaster FranceInfo the message to Chinese authorities is that they "must stop trying to play one country against another."
Macron also said "several major deals" were due to be signed between French and Chinese companies during the visit. He was accompanied by more than 50 French CEOs including from Airbus, railway equipment manufacturer Alstom and energy giant EDF.
A French official said last week negotiations were underway on a potential deal with Airbus that would come on top of China`s 2019 order for 300 aircraft.
Macron said he will push for "working in partnership" with China on climate. He said France will organise a global conference on the protection of oceans in 2025 and said China should be part of these efforts.
This story has been sourced from a third party syndicated feed, agencies. Mid-day accepts no responsibility or liability for its dependability, trustworthiness, reliability and data of the text. Mid-day management/mid-day.com reserves the sole right to alter, delete or remove (without notice) the content in its absolute discretion for any reason whatsoever.