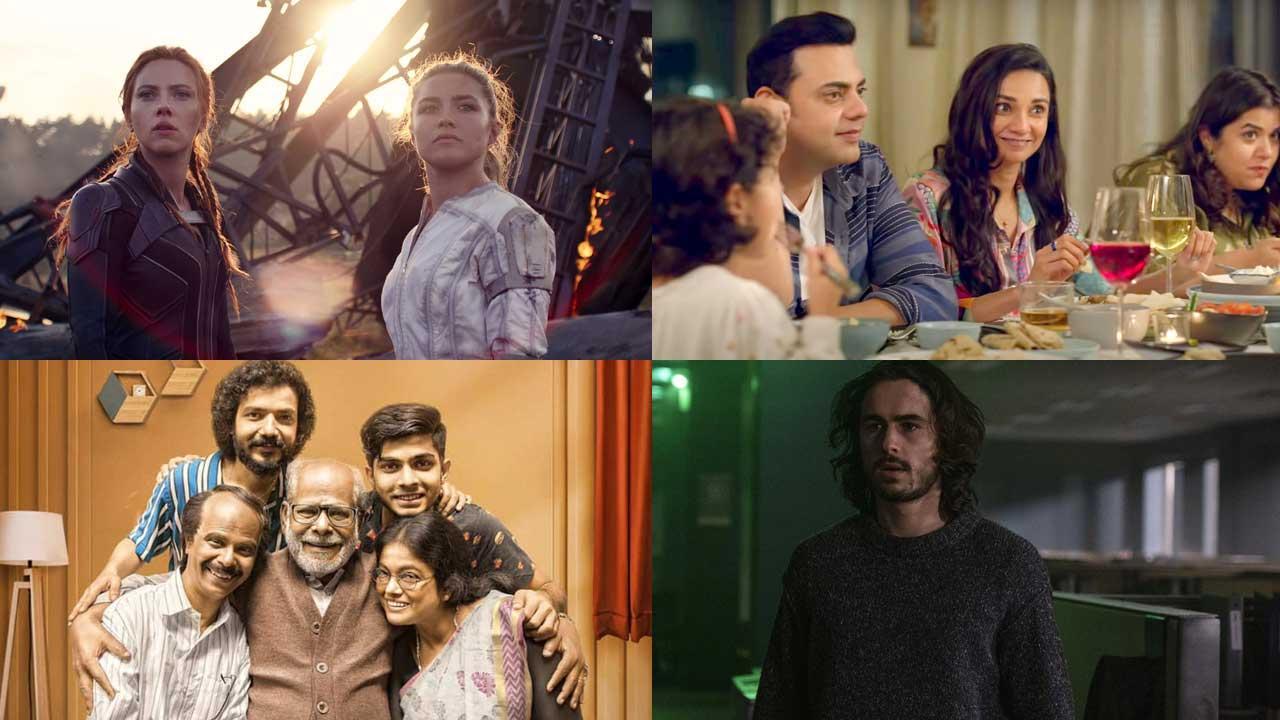 What ideally makes you decide what to binge-watch every time you surf through the gazillion OTT platforms? For me, the decision has always stemmed from recommendations made by close friends and colleagues that also intrigued me or trailers and subjects that grip you, and in the case of documentaries, the choice emanates from something I relate to. This week's choices were rather emotional. Two very different tales on familial relationships, the origin story of the original femme fatale, a documentary on everything that happened before and after 9/11 and an apocalyptic showcasing a scary future. Here's a list of mid-day's OTT recommendations for this week.
Home – Amazon Prime Video
Every time they call, I wonder what did I do wrong this time or what new are they going to lecture me about? After a few years of living alone, I have realised that ultimately home is where I can be the most screwed-up version of myself without judgement and that's exactly what Rojin Thomas' `#Home` is all about. Malayalam actor Indrans (Oliver Twist, his character) has effortlessly played the comic actor in most of his films, but this is probably one of his best emotional performances. A retired man, who does his own farming on the terrace of his home, yearns to reconnect with his elder son, hoping that he would be interested in his life as much as he is with his phone. It's an emotional father-son story that is relatable, heartfelt and something that will make you pick up the phone and call your parents.
Potluck – SonyLIV
Every family function has some dysfunctionality, and that is exactly what makes them tick. `Potluck` showcases exactly that in this eight-episode series, which is hilarious and an emotional roller coaster ride. Based in a privileged setup, this series revolves around Jatin Sial, his wife played by Kitu Gidwani and their three children – Cyrus Sahukar, Shikha Talsania and Harman Singha. A fake heart attack, and everyone decides that weekly family gatherings over potluck and playing dress-up will bring everyone closer. There's no happily-ever-after and potlucks don't exactly resolve family issues, but it's definitely a start. So, if you need something light-hearted to catch up on, this is your go-to series that will leave you in giggles.
Black Widow – Disney+ Hotstar
She died an early death in `Avengers Endgame` (2019) just like Tony Stark, aka Iron Man did. But the difference being Iron Man has three movies dedicated to him, while Black Widow had none. It has been a long pending request from fans for a solo Black Widow movie, that Marvel finally paid heed to when they announced the film. Natasha Romanoff was trained to be an assassin, but managed to escape the Red Room [where they are trained and brainwashed to become assassins]. In tandem with Clint Barton, she ensured to kill the creator Dreykov before her escape, but the death of his daughter as collateral damage always weighed heavy on her. The film is set in the timeline right after she is declared a fugitive for breaking the Sokovia Accords established by the UN and before the threat of Thanos looms in `Avengers Infinity` (2018). The film as expected is chic, and Scarlett Johansson is a treat to watch. While it lacked the trademark humour of MCU movies, there was no dearth of action. If you are a Marvel fan, I don't need to tell you to watch this, but if not, then watch it to see some badass women kick ass.
Turning Point – Netflix
It's been 20 years, but the 9/11 attack is fresh in everyone's mind who has lost a loved one or managed to escape by a hair's breadth. Over the years, almost seven documentaries and countless films have been made on the tragedy. Some are still in the making. In the wake of the US leaving Afghanistan after a 20-year-long war on September 11, this year, Netflix streamed a documentary that ties up all the loose ends in a perfect timeline without mincing any words. The timeline is set from before 9/11 and after it, the ramifications of the attack, the tragedy that followed and continues to follow and where it went all wrong. It's interesting to see personal interviews of those in the White House then and those who came after. A brilliantly planned and executed documentary that throws light on every aspect of the horrific incident.
Y: The Last Man – Disney+ Hotstar
Imagine a world without men, would that be ideal? Some say, it would be ideal as atrocities against women would cease to exist. Now, in the past, several filmmakers have tried their hand at this subject. `Sexmission` (1984), `The Last Man on Planet Earth` (1999), `No Men Beyond This Point` (2015), `Matrubhoomi: A Nation Without Women` (2003), among others. So, several have imagined and come up with their own version of this apocalyptic world. The series traverses a post-apocalyptic world where a cataclysmic event annihilates every mammal with a Y chromosome, except for one cisgender man and his pet monkey. Adapted from a graphic novel, the narrative of the series starts at a slow pace, until men start dropping like flies without reason. Since it is a weekly and three episodes released, I am yet to figure out how the story unfolds and whether it is different from everything that has been released on this futuristic concept.