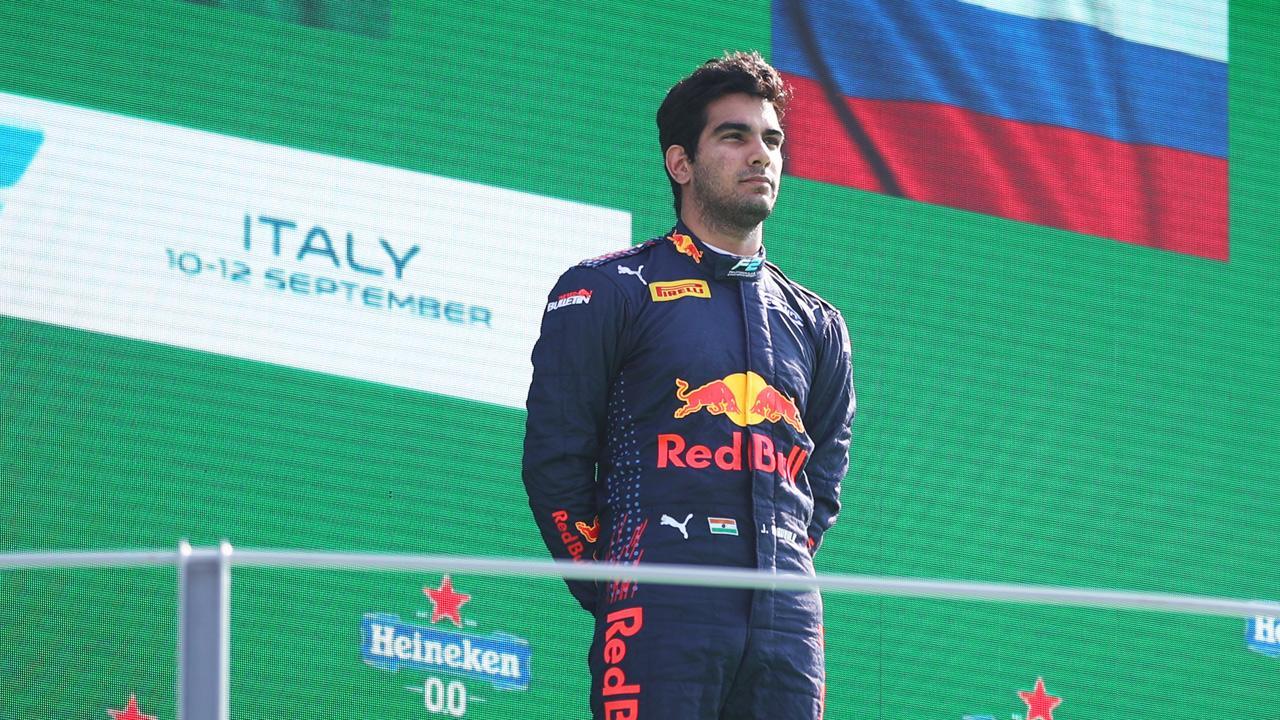 Despite a massive performance in September, when he won the Italian Grand Prix (sprint race; his second victory in Formula 2 after the Sakhir GP last season) and ending up on the podium for the fourth time in the season at Russia, Jehan Daruvala, 23, is not in contention for a 2022 Formula One seat.
The disappointment notwithstanding, the Carling Racing driver is looking to make most of his time with his family at their Dadar Parsi Colony home in Mumbai before heading to Jeddah in December for the remaining races.
Back home after a while, Daruvala took off to speak to mid-day.com recently about his stupendous two weekends last month and his plans of breaking into Formula One in 2023.
Edited excerpts from the interview.
How much did you miss home?
I always miss it. I am quite a homeboy. I love spending time with my family and friends. When you are born and brought up in this place, you tend to miss it. I miss the Parsi food which we cook at home. I also like the fact that I get to be a normal guy when I am back home and not talk too much about racing as I have a lot of it when I am on tours. I just like to relax with family and friends.
How crucial were your performances in Russia and Italy?
The last two weekends have been a massive step in the right direction. I had a win and podium [finish]. So, I have great momentum going ahead.
How confident are you of making it to F1 next year?
It is very hard to say. The seats in Formula One for 2022 are all almost fixed so there is pretty much no chance for me to go to F1 next year. With the kind of performances I had in the last two weekends, and if I still manage to stay on the Red Bull junior programme for next year…it all depends on these factors. My plan right now is to drive in F1 in 2023.
Is it difficult for a non-European to make it to F1?
It is obviously difficult as racing in India is not massive and competitive. But I think once you are in, a championship in F3 or F2 is all that matters. It makes no difference whether you are from Asia or anywhere.
How challenging is it mentally to continue racing despite knowing that it will be tough to make it to F1 next year?
It is difficult. But it is difficult for anyone. I think only one or two people go to the F1, and the rest if you are good and competing, you can earn a living somewhere else in motorsports.
Honestly, it doesn`t feel good when you know you don`t have a chance of making it to F1 in 2022, but as I said, my aim is to make it in 2023.
What`s the future for motorsports in India?
Motorsports is really not easy. It is different to some other sports. Small steps help a lot like Euro Sport is streaming my races on TV. So, watching an Indian on the grid and if we are able to inspire at least one kid to pick up motorsports, then it`s a step in the right direction.
F2 is not big right now in the country, but these small steps can make it bigger. Obviously, I want to do well and put India on the global map.