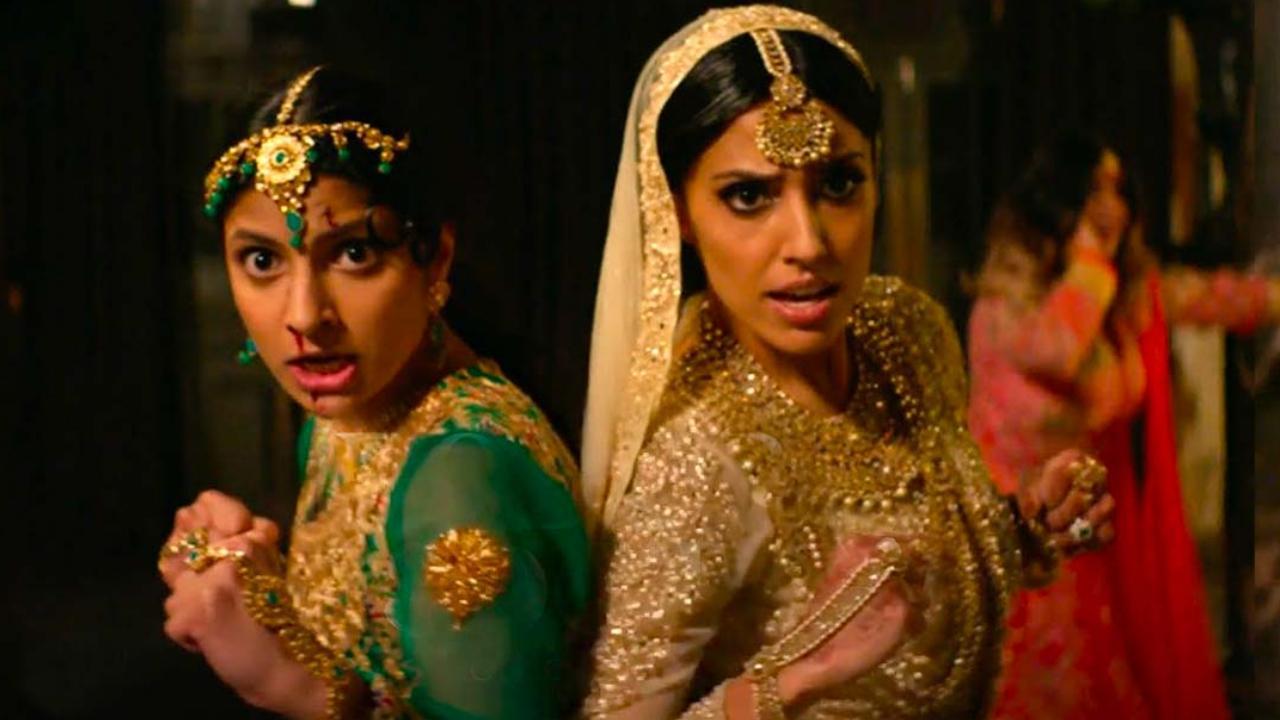 Film: Polite Society
Cast: Priya Kansara, Ritu Arya, Shobu Kapoor, Ella Bruccoleri, Seraphina Beh, Shona Babayemi, Nimra Bucha, Jeff Mirza
Director: Nida Manzoor
Rating: 3.5/5
This debut feature from writer/director Nida Manzoor is a wildly audacious work that takes on South Asian tradition and patriarchy while admitting that behind every great man, there's a very tired mother who's sacrificed everything… And she gets to decide who her son will marry and why?
The film is about 16-year-old Ria Khan (Priya Kansara), a British-Pakistani girl who is passionate about becoming a stuntwoman like her idol (represented by real-life British stuntwoman Eunice Huthart). To that end, she is learning martial arts, takes her sister Lena's (Ritu Arya) help to videograph her stunts for her youtube followers, and even writes letters to Eunice hoping she could help her with an in into the industry.
Ria is a next-gen brat who has an unfailing tendency to misjudge distances and facts. She may call herself 'the fury' but it`s apparent that her furious efforts to make something of her martial arts training fail to come good.
Also Read: `Sisu` Movie Review: Bloody minded gory actioner served in Western style
Ria and Lena share a very close bond but when Lena drops out of Art school and eventually starts dating Salim (Akshay Khanna), a rich Geneticist who is all set to whisk her off to Singapore after marriage, Ria sees red. Horrified that the older sister she idealizes is giving up on her artistic aspirations, Ria sets out to make Salim look bad and in the process tumbles on a gold mine.
Manzoor's propulsive, stylish narrative incorporates a wild set of ideas that don't always gel. While Ria's track is symbolic of the wishy-washy nature of hormone-riddled teenage insecurity, it does little to make it seem realistic. But that's not all bad as realism is not the goal here.
Manzoor's tone and tenor make the narrative seem like a comedy of errors before she allows Ria to score the KO flying kick in the closing moments – albeit, the one and only successful one! Before that she has Ria mimic the 'Maar Dala' costumed dance number from `Hum Dil De Chuke Sanam` as part of the marriage festivities while getting her friends Clara and Alba (Seraphina Beh and Ella Bruccoleri) to aid her in the rescue effort.
There's no doubt this is a high-Octane Culture-Clash Comedy with Priya Kansara rousing up a high-on-energy scene-stealing romp while the rest of the cast grin and bear it. Nimra Bucha as Salim's Machiavelli Mom, Raheela, is a hoot as she becomes the evil counter to Ria's do-gooder effort. Even Ritu Arya as Lena marks her presence with a sedate-to-kick-ass transformation that sits well in the episodic, frequently combusting clash of ideals that this film represents.
Also Read: `Evil Dead Rise` Movie Review: An unrelenting scare fest!
There's a silly, ridiculous, exaggerated slant to the acting and the writing – the camera seems to be moving demoniacally as the script attacks adolescent fears, using Kung-fu movie parodies and outlandish schemes, with an intent to make teenage life seem like something 'worth coveting.'
`Polite Society` hits hard on the body and mind to score on intensity and entertainment. The plot gets even loopier as Manzoor's satirical tone finds firm ground. The witty humour, Robbie Morrison's sharp editing, and feisty no holds barred performances make this film a full-on entertainer all the way through!