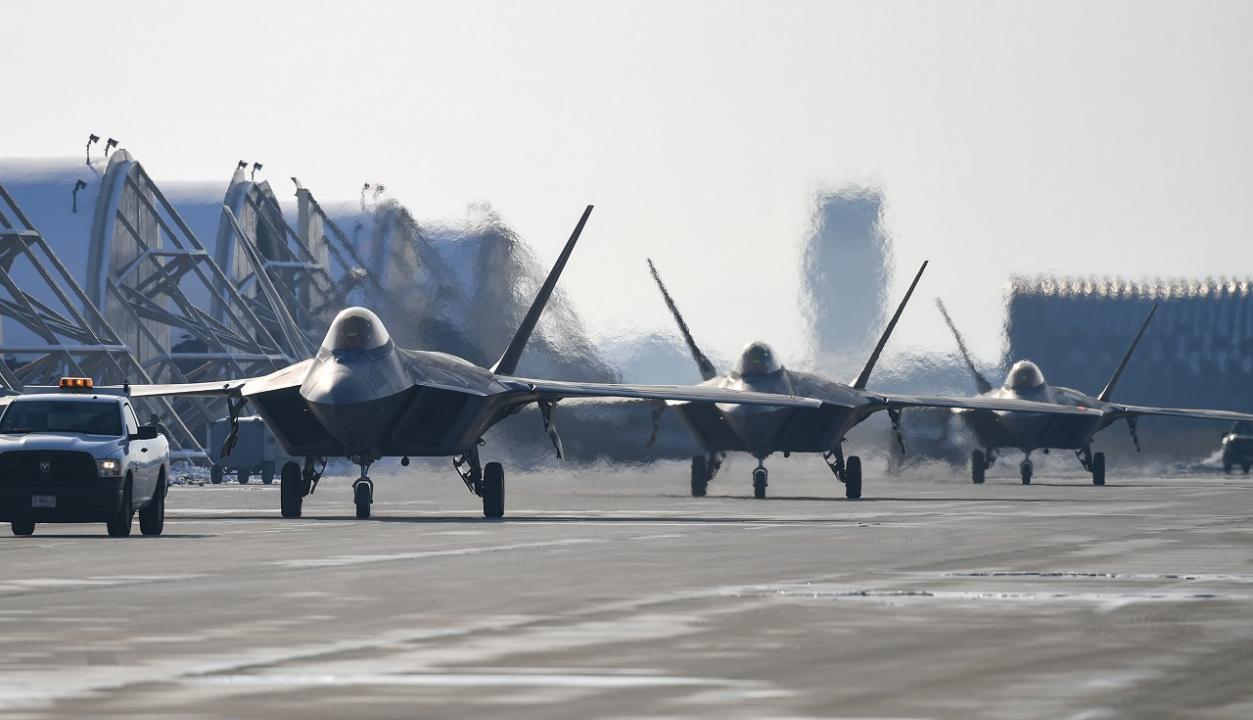 A US fighter jet Friday shot down an object, the size of a small car, flying with payloads at a height of about 40,000 feet off the northern coast of Alaska on the direction of President Joe Biden, officials said.
According to Pentagon Press Secretary Brigadier General Pat Ryder, the object, whose origin is not known so far, was first detected inside American airspace on Thursday. It posed a "reasonable threat to civilian air traffic", he said.
"US Northern Command is beginning recovery operations now," Ryder said, adding the F-22 fighter jet deployed an AIM-9X missile to take down the object.
This came almost a week after the US shot down a Chinese spy balloon off the coast of South Carolina in the Atlantic Ocean. It had hovered over continental America for several days after entering the US airspace on January 30 in Montana.
China has acknowledged that the balloon was theirs but denied that it was for surveillance purposes rather for weather monitoring and that it had drifted off course.
About the unidentified object over Alaska, Ryder told reporters at a news conference, "At the direction of the President of the United States, fighter aircraft assigned to US Northern Command successfully took down a high-altitude airborne object off the northern coast of Alaska at 1:45 pm Eastern Standard Time today within US sovereign airspace over US territorial water."
"We have no further details about the object at this time, including any description of its capabilities, purpose or origin."
Also Read: Chinese spy balloons have targeted several countries, including India: Report
The object was about the size of a small car, not similar in size or shape to the high-altitude surveillance balloon that was taken down off the coast of South Carolina on February 4, he said.
The news of shooting down the unidentified object was first announced by the White House.
"Out of an abundance of caution and at the recommendation of the Pentagon, President Biden ordered the military to down the object. They did, and it came inside our territorial waters. Those waters right now are frozen but inside territorial airspace and over territorial waters," National Security Council Coordinator for Strategic Communications John Kirby told reporters at the White House.
Ryder said the recovery of the debris is taking place in a mix of ice and snow.
"The object was travelling northeasterly across Alaska. A two-ship flight of F-35s conducted identification of the object," he said.
"An F-22 out of Joint Base Elmendorf-Richardson — assigned to U.S. Northern Command — shot down the object with an AIM-9X missile near Deadhorse, Alaska," Ryder said.
According to him, since the unidentified object posed a threat to civilian air traffic, a decision was taken to shoot it down.
"In terms of the spy balloon (downed a week ago), we have learnt a lot about the Chinese surveillance high-altitude balloon programme," he said.
"We gathered a lot of information over the last couple of years. Based on that, we were able to detect it at a very early stage as it approached US air space and we had a good understanding of what it was. We were able to monitor that closely while it went over the continental United States, learn a lot about it and take it down at the appropriate time," the Pentagon Press Secretary said.
Alaska Governor Mike Dunleavy said that the unidentified object, shot down on Friday, raises serious national security concerns.
"This latest intrusion into our airspace raises serious questions about the White House`s decision to not shoot down a Chinese spy balloon last week when it was above the Aleutian Chain and prevent it from flying over important military sites in the Lower-48," he said.
Senator Mark Warner, Chairman of the Senate Permanent Select Committee on Intelligence said, "Glad to see the President act swiftly on this new intrusion to our airspace. I`m looking forward to more details becoming public as the recovery and investigation continue."
Meanwhile, the US Northern Command continued its operation to recover the remains of the Chinese high-altitude surveillance balloon that was down off the coast of South Carolina.
"Recovery teams have mapped the debris field and are in the process of searching for and identifying debris on the ocean floor. Debris that`s been recovered so far is being loaded onto vessels, taken ashore, catalogued and then moved onwards to labs for subsequent analysis," Ryder said.
He noted that a significant amount of debris has been located so far that will prove helpful in understanding the balloon and its surveillance capabilities.
"Due to less than favourable sea right now, teams will continue to conduct underwater surveys and recovery as conditions permit. The department wants to thank our interagency partners from the US Coast Guard, the FBI and state and local authorities for their continuing assistance and partnership," the Pentagon press secretary added.
This story has been sourced from a third party syndicated feed, agencies. Mid-day accepts no responsibility or liability for its dependability, trustworthiness, reliability and data of the text. Mid-day management/mid-day.com reserves the sole right to alter, delete or remove (without notice) the content in its absolute discretion for any reason whatsoever.