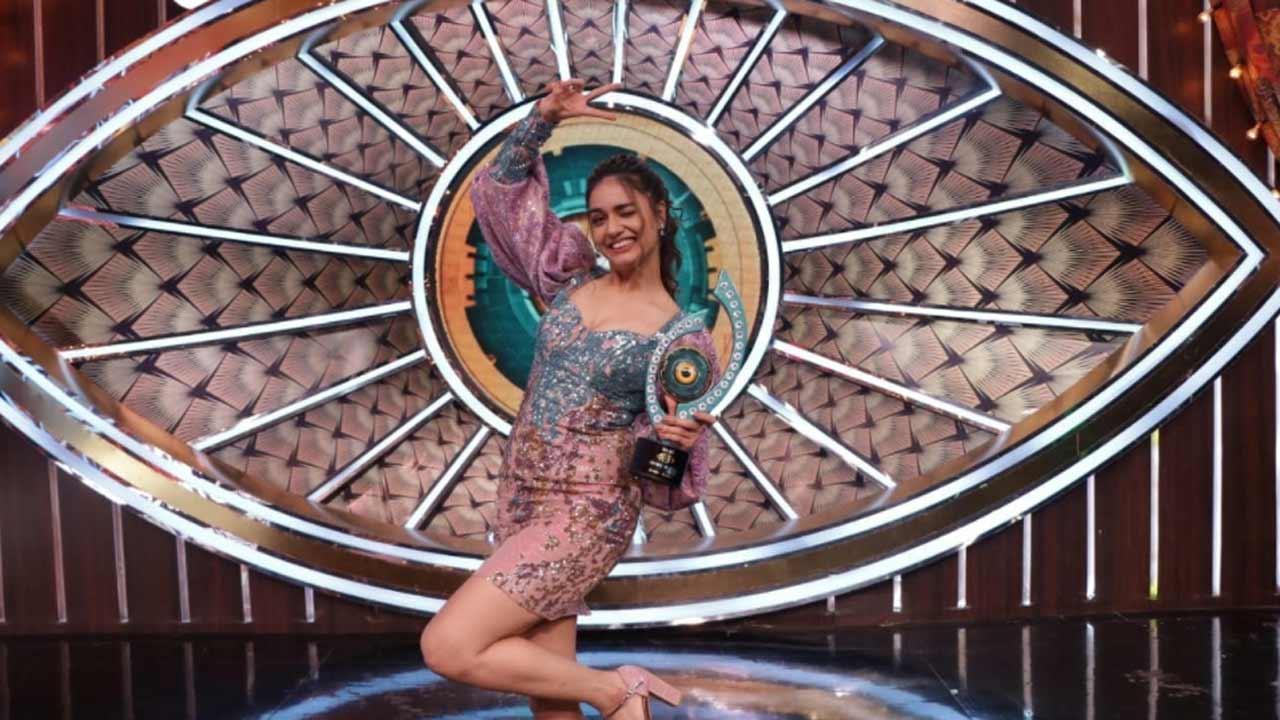 Divya Agarwal has won the first ever `Bigg Boss OTT` hosted by Karan Johar on Voot and the ecstatic winner who was part of many controversies with Shamita Shetty, Neha Bhasin, Pratik Sehajpal and others in the house tells mid-day.com, that her focus is now on family time. Divya hopes to soon enjoy a holiday in Santorini with boyfriend Varun Sood, buy a house together and plan a wedding.
How have you been celebrating your win?
The celebrations have been lovely. I've missed my family and friends so much. It felt great to come back home with the trophy; it's a gift to all the people who supported me. 'Sabar ka phal meetha hota hai' is what I've understood through this journey.
Your relationships in the house with co-contestants like Shamita Shetty, Raqesh Bapat, Pratik Sehajpal and Neha Bhasin became a point of controversy. How did it feel not having any support in the house?
I would have never imagined myself without any friends. I'm the kind of person who makes friends wherever I go. This was completely opposite of what I thought. It was scary but I was okay, whatever happens happens for the best.
Do you see yourself being friends with these contestants outside the house?
Honestly, I have a lot of friends and a huge family. They have been with me since nobody knew me. They are my priority. Once I'm satisfied talking and gossiping with them, maybe I'll reach out to these contestants.
Also read: Contestants in the Bigg Boss OTT house witness an emotional roller-coaster
Buzz is that you are part of Bigg Boss 15…
I don't know yet, if it happens I'm ready for it, but if it doesn`t happen I'm ready to start work on my acting projects. I was doing 'Cartel' when I went into the house so I want to concentrate on acting more. Enough of reality anyway, but if it happens it's a win-win situation.
Have you thought about what you want to do with the prize money?
As I had said 'Bigg Boss meri chahat hai, zaroorat nahi.' I didn't know I would get the prize money, but now that I have it I wish to buy a BMW like Varun (boyfriend Varun Sood) or a Mercedes but abhi uski zaroorat nahi hai. I already have a good car and that's enough.
Do Varun and you plan to go on a holiday to make up for the time apart?
Varun had promised me a holiday in Santorini if I won. If I don't go to Bigg Boss 15, you will see me chilling in Santorini with a margarita. We want to start our life together and get married. Once we buy a house, we will plan our future together, it will be one more step in our journey.
Also read: Divya Agarwal wins `Bigg Boss OTT`, earns a place in Bigg Boss 15