The 21-year-old was sentenced for killing a 62-year-old man after being ordered to shoot him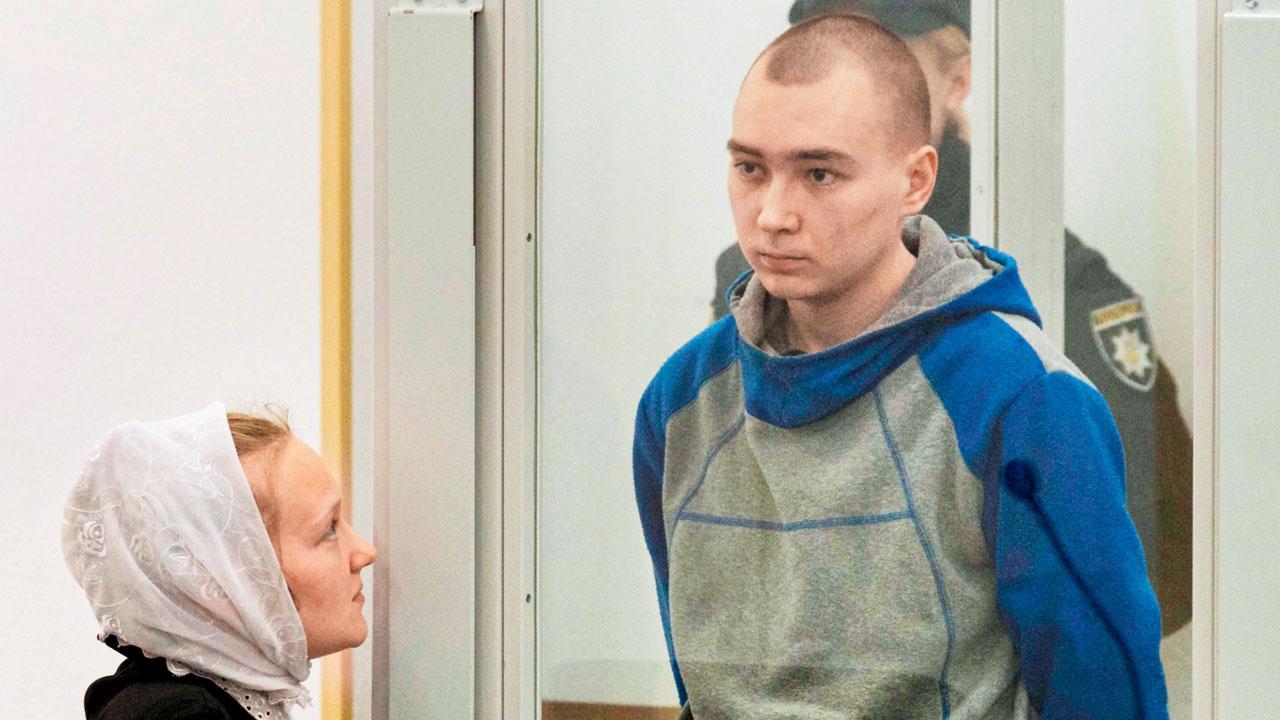 The trial of Vadim Shishimarin, seen here with his translator, has huge symbolic significance for Ukraine, which has accused Russia of atrocities and brutality against civilians. Pic/AFP
A Ukrainian court sentenced a Russian soldier to life in prison on Monday for killing an unarmed civilian in the first war crimes trial arising from Russia's Feb. 24 invasion. Vadim Shishimarin, a 21-year-old tank commander, had pleaded guilty to killing 62-year-old Oleksandr Shelipov in the northeastern Ukrainian village of Chupakhivka on Feb. 28 after being ordered to shoot him.
Judge Serhiy Agafonov said Shishimarin, carrying out a "criminal order" by a soldier of higher rank, had fired several shots at the victim's head from an automatic weapon. "The court has decided: Shishimarin Vadim Evgenyevich … is found guilty … and sentenced him to life imprisonment," he said. "Given that the crime committed is a crime against peace, security, humanity and the international legal order … the court does not see the possibility of imposing a (shorter) sentence of imprisonment on Shishimarin for a certain period."
Shishimarin showed no emotion as the verdict was read out. For much of the time, he stood with head bowed as he listened to a translator who stood with two guards outside the reinforced glass box. The trial has huge symbolic significance for Ukraine, which has accused Russia of atrocities and brutality against civilians during the invasion and said it has identified more than 10,000 possible war crimes. Russia has denied targeting civilians or involvement in war crimes. The Kremlin did not immediately comment on the verdict.
Ukraine says 87 people killed 
Eighty seven people were killed in a Russian air strike on the village of Desna last Tuesday, Ukrainian President Volodymyr Zelensky said on Monday during a speech to global business leaders at Davos. Ukrainian authorities last week had said that eight people were killed in the strike on Desna, located in the northern Ukrainian region of Chernihiv.
Zelensky told the meeting of global business leaders at Davos that the world faced a turning point and had to ratchet up sanctions against Russia as a warning to other countries considering using brute force. "History is at a turning point… This is really the moment when it is decided whether brute force will rule the world," Zelensky said in his address. He also pushed for complete withdrawal of foreign companies from Russia to prevent supporting its war and said Ukraine needs funding — at least $5 billion per month.
'Ukraine must be constructive' 
Russia will be ready to return to negotiations with Ukraine "as soon as Kyiv shows a constructive position", RIA cited Deputy Foreign Minister Andrey Rudenko as saying. Speaking on the subject of Russia exchanging prisoners from the Azovstal steelworks, RIA reported that Rudenko did not rule out that discussions are taking place.