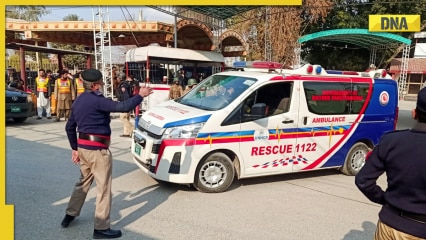 The shocking and tragic terror attack in Pakistan's Peshawar has left the entire world stunned, with the death toll rising with each passing hour. A bomb blast occurred in a mosque in Peshawar, killing as many as 46 people and injuring over 200 worshippers.
A Taliban suicide bomber blew himself up in a mosque packed with worshippers during afternoon prayers on Monday in the high-security zone in Pakistan's northwestern Peshawar city, killing at least 46 people and wounding more than 100 others, mostly policemen, security, and health officials said.
Soon after the lethal blast shook up the entire country, Pakistan Taliban commander Sarbakaf Mohmand claimed responsibility for the suicide attack. The Peshawar police have released a list of 38 victims, while the hospital has confirmed that 46 people have died so far.
A brother of the slain commander of the Tehreek-e-Taliban Pakistan (TTP) Umar Khalid Khurasani claimed that the suicide attack was part of the revenge attack for his brother who was killed last August in Afghanistan, as per PTI reports.
The outlawed TTP, known as the Pakistani Taliban, has carried out a number of suicide attacks in the past, targeting security personnel. Most of the people who have been injured in the attack are police personnel.
Pakistan Prime Minister Shehbaz Sharif strongly condemned the attack, vowing that the sacrifice of those who lost their lives in the suicide bombing will not go in vain. The Pakistan PM said, "Terrorists want to create fear by targeting those who perform the duty of defending Pakistan."
Further, Pakistan PM Shehbaz Sharif said that the suicide bombing had "nothing to do with Islam", and urged all his party workers to donate blood in hospitals in Peshawar to save the lives of those injured in the attack. He wrote on Twitter that people with 'O-Negative' blood are appealed to immediately reach Lady Reading Hospital in Peshawar to save their lives.
The TTP, set up as an umbrella group of several militant outfits in 2007, called off a ceasefire with the federal government and ordered its militants to stage terrorist attacks across the country.
(With PTI inputs)