Canon Europe has introduced a new vlogging camera for those who want to take their followers on their adventures with them. Weighing just 211g, the PowerShot V10 is a compact and lightweight camera that can easily fit in your pocket, doing away with the need for carrying bulky equipment.
The PowerShot V10 has high-quality microphones, features a built-in stand, and records shake-free 4K UHD movies with professional-looking background blur.
Canon says that the PowerShot V10's vertical body is a new design for the company. It allows it to be extremely portable and so unobtrusive that creators can comfortably blend in when recording themselves in crowded places. Plus, the centred record button is tailor-made for quick and agile one-handed camera control. The camera can be operated almost completely single-handedly, thanks to its 2.0-inch LCD touchscreen which you can flip to the front.
At heart of the camera is a large 1-inch CMOS sensor that can deliver 4K video quality, while also offering stills shooting capabilities. You can quickly switch up the ambiance using any of the 14 included colour filter effects and Smooth Skin mode.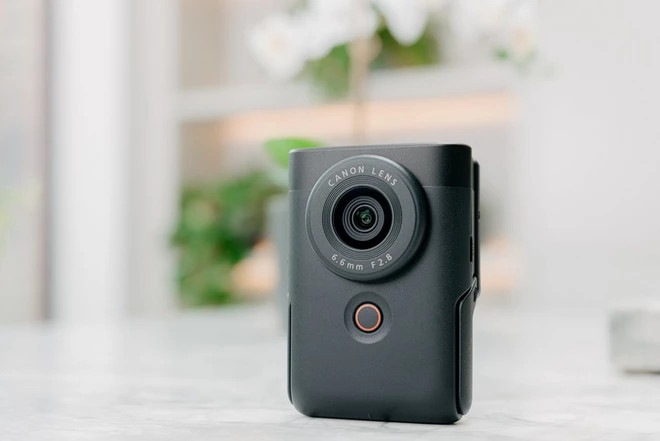 The camera offers Wi-Fi, Bluetooth, Webcam connectivity (Image: Canon)
Two large stereo microphones are onboard designed for narration, joined by a third audio noise reduction microphone. An optional windshield can be purchased as part of the advanced accessories kit, further improving sound quality in outdoor conditions.
The PowerShot V10 is fully compatible with the Canon Camera Connect app, so you can transfer your videos to a smartphone or tablet over Wi-Fi with ease. It also includes both HDMI and USB ports for easy transfers to a laptop or PC, or to use as a webcam. For those who are constantly out and about, the device can be recharged on the go via USB-C.
The camera can be purchased as part of two different bundles. The standard kit includes a power cable, soft case, lens cap, windshield and wrist strap. For those who want more creative options, an advanced kit, designed in collaboration with SmallRig, includes a cage which can be used to attach a ring light or hold an external microphone.
The Canon PowerShot V10 has made its official debut in India at Rs 39,995. It will hit the shelves in June 2023 and can be purchased from Canon stores or any major retailer (online or offline).