We often forget that our homes are filled with invisible Wi-Fi signals that enable our online activities. But what if we could observe them and how they interact with our surroundings? What if we could find the best spots for Wi-Fi reception? Thanks to augmented reality, there are apps that let us do just that. In this article, we will explore some of these apps that are available on the Play Store and App Store.
WiFi AR (Android)
The WiFi AR app. (Image: Play Store)
WiFi AR is an app that lets you visualise your WiFi or cellular network in augmented reality mode. You can use it to find the best WiFi access point location, check your connection speed and ping value, and detect interfering networks.
Setting it up is simple. After you launch it, you'll be taken to a screen that will let you pick what you wish to visualise – Wi-Fi or 5G/LTE. Upon selecting Wi-Fi, you will have to walk around a bit before the app starts giving proper readings. Toward the bottom of the screen, you will see options for more specific visualisation. For instance, Ping will let you find the best spots in your home where the ping is the lowest, for uninterrupted online gaming.
You can also see if your device switches correctly between multiple routers. WiFi AR uses ARCore, which is compatible with a list of supported devices. You can download it for free from the Google Play Store and see how it works for yourself.
Architecture of Radio (Android and iOS)
(Image: Architecture of Radio)
The Architecture of Radio app casts a wider net than WiFi AR and even lets you visualise signals from satellites around you, in addition to cell towers and Wi-Fi routers. The app uses global open datasets of millions of network locations and your GPS location to create a 360-degree view of the infosphere.
You can see how we depend on these signals for communication, observation and navigation, and how they shape our digital lives. The app is not a measurement tool, but an artistic impression of the hidden technological landscape we interact with every day. The Architecture of Radio app is available for iOS and Android devices.
AR WiFi Analyzer (iOS)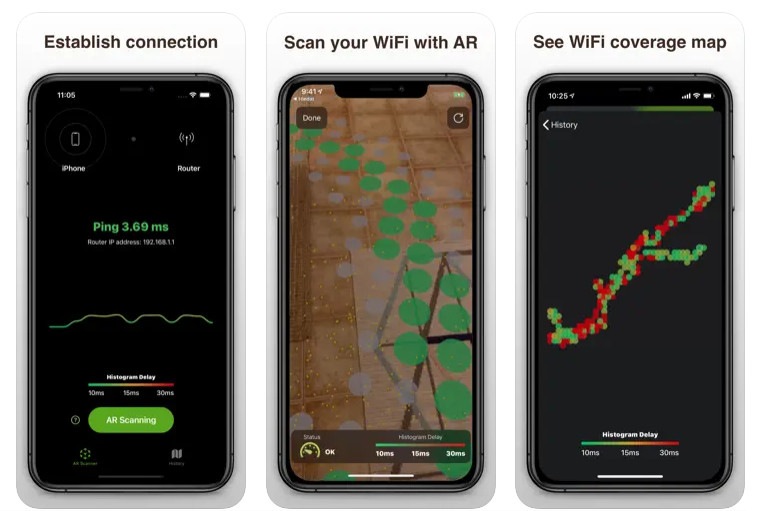 The AR WiFi Analyzer app. (Image: App Store)
If you want to optimise your WiFi network at home or office, you might want to try the AR WiFi Analyzer app for iOS. This app uses augmented reality technology to scan your WiFi environment and show you where your signal coverage is weak. You can also test your connection speed, latency, and quality at different points in space. The app also respects your privacy and does not link your data to your identity.